[ad_1]
We are back with another gaming PC build , this time the budget is 2 Lacs and we are going to build a highly competent gaming PC today.
One such configuration we'll be listing in today which is a Gaming PC under Rs 200000 or Rs 2lac or Rs 200K for those who have trouble counting the number of zeros there!
Points Kept in Mind 
1) The configuration is aimed at high end gaming and not just at 1080p gaming so all the games should run comfortably at high to medium settings on resolutions over 1080p and preferably at 4K
2) We are aiming for 144Hz gameplay aswell as VR Gaming so the system should pack enough horsepower to handle all of that for smooth gaming
3) Upgrades should be easy for the chosen components and not mean changing multiple components just for the sake of one such as a processor.
Also Read:

10 Best Laptops Under Rs. 35,000

10 Best Gaming Laptops Under Rs 50,000
4) The components not only should be compatible and not create a bottleneck for each other but also not be a bottleneck for other peripherals like a high resolution or high refresh rate monitor.
5) This configuration is not aimed at casual gamers so the choice of components especially monitor, keyboard and mouse is such that it suits the requirements of professional or serious gamers so as to justify the amount we are looking at here.
6) As we are using substantial amount of money here so the system should be more than capable of handling just gaming and should be able to do much more just in case required by the user.
All of this is worth mentioning so as to give you a clearer picture of what we are aiming at here or what we can make in this much money.
Lets get started.
 1.  CPU – Intel Core I5-8400
The latest offering from Intel in form of the Coffee Lake will be used since this build is primarily for gaming which the Intel i5 8400 handles smoothly.
Check Price : Amazon
This six core or hexacore processor comes with a base frequency of 2.8Ghz which can top out at 4Ghz boost on all cores when needed and since it's a six core CPU you won't need anything more than that for gaming anyways making it quite future proof even for two to three years to come. As a bonus it comes with the Intel Stock cooler so you don't need to shell out any extra for an aftermarket cooler.
For the cynical ones out there the i5 8400 is more than capable to deal with gaming intensive workload and doesn't bottleneck even the most powerful of gamer oriented graphics card out there so you can hold on to hose horses right there.
Note For Using i7 8700K :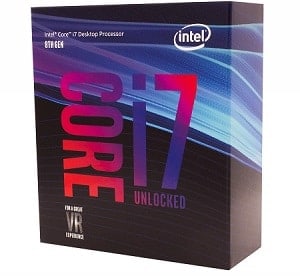 If you are aiming for this build and are into streaming your gameplay while playing or like to run background CPU intensive tasks such as rendering etc while gaming then you can opt for the Intel i7 8700K instead by subtracting the Keyboard and Mouse that I've mentioned further down this configuration along with opting for a Kingston A400 256 GB variant instead of the 480 GB that I've mentioned.
Also pair it with a good air or liquid cooler of your choice to keep this six core-twelve thread computing monster cool at stock frequencies of upto 4.7Ghz boost. Also since its overclockable, if you keep it cool enough, the CPU can be tweaked for more performance in future making it future proof and ready for almost anything that you will throw at it.
 2.  Motherboard – GIGABYTE Z370 AORUS Gaming WiFi
Since gaming PCs are also about styling and bling I suggest the Gigabyte Z370 Aorus Gaming WiFi motherboard which is not only a solid choice when it comes to technology with support for memories upto 4000Mhz in frequency and metal reinforced PCIe slots for heavy graphics cards but it also comes with a great RGB LED layout which looks really pleasing and can be customized in millions of ways as per the user's taste and requirements.
Check Price : Amazon
Loaded with dual M.2 drive support and  ample of USB 3.1 ports, the motherboard comes equipped with on board WiFi and Bluetooth connectivity which is vital and imparts easy connectivity even with gaming peripherals such as the Xbox One S controller for PC.
Also the motherboard features 5.1 channel audio support via a Realtek ALC1220 audio CODEC which is best in class and you can't ask for anything more in this price range.
Also Read : 

10 Best Gaming Headphones Under Rs. 5,000

Bluetooth Earphones Under Rs. 1000
 3.  RAM – G.skill Trident Z RGB 16GB (2 x 8GB) 3200MHz
Check Price : Amazon
Today for gaming 8GB is the bare minimum that you should have in your PC for playing games at respectable setting or else it creates a huge bottleneck even if you've got everything else in place! For that matter we'll be using the legendary G.Skill Trident Z RGB 16GB 3200Mhz  memory kit which constitutes of two 8GB DDR4 stick so you get two RAM sticks working in dual channel for superior performance at very tight latency timings of just CL16.
3200Mhz is not only a high frequency but when we talk about gaming at high resolutions such as 4K then 3200Mhz is what we should be looking at for smooth performance.
Not to mention the RGB implementation is best in class and the colors, patterns etc can be configured and synched by using the motherboard itself for the perfect eye candy of a gaming PC.
 4.  SSD – Kingston A400 480GB
Check Price : Amazon
Yeah you obviously need a SSD for faster Windows boot up time and quick loading in games or else you'll be stuck loading multi gigabyte games over a conventional mechanical hard drive.
The Kingston A400 480G B would do the job here as the SSD offers superior performance than SSDs that cost almost double the price for which it comes at! Great after market sale support for Kingston is always there and 480 GB would be more than enough for Windows, your vital software and games so pick this up without any second thoughts here.
Also Read :

10 Best Internal SSD for Laptop/PC in India
 5.  HDD – Toshiba 3TB
Check Price : Amazon
Since we are building a PC it is quite obvious that you would be watching movies and listening to music as well along with downloading a bunch of other stuff from the internet so we need a HDD here for which we'll go with the Toshiba 3TB for its long line of trusted quality and service that it offers at a very reasonable price.
The 3TB HDD spins at 7200 RPM so you won't feel it slowing down or spoiling your experience even if you play a multi-GB Blu Ray rip over your monitor or TV due to slow load/buffer time.
 6.  Graphics Card – Zotac Geforce GTX 1080 Ti AMP Extreme Core 11GB GDDR5X
Check Price : Amazon
I know this is the most crucial part of the build here and that's why we are going for the Zotac GTX 1080 Ti AMP Edition Core simply as this card is clocked higher both at stock and at boost and is competitively priced over the competition, plus its big and I mean really big.
The GTX 1080 Ti is one of the latest offering from Nvidia under their Pascal architecture which has proved its metal in the industry over the main stream and high end segment. Equipped with 11GB of GDDR5X memory the card is VR ready and can easily drive your VR headset if you are into that and can seamlessly handle every title at 4K and at 144 Hz making it ideal for professional FPS gaming where speed is the key.
The GTX 1080 TI is something that will devour every title that you'll throw at it and will always have room for more. As a bonus the card comes with extended warranty features aswell.
Also Read: 

10 Best Laptop Cooling Pads in India

LED Gaming Keyboards Under Rs. 5,000
 7.  PSU – Cooler Master MasterWatt 750 Semi-fanless Modular Power Supply
Check Price : Amazon
For around Rs 7K the Cooler Master MasterWatt 750 is not only a modular power supply making it easier to route cables and build a cleaner system but is also rated at 750W which is more than enough to power up our system safely even under full load and as its semi fan less the unit ensures minimum to no noise generation ensuring a quieter performance throughout.
 8.  Case – Cooler Master H500P mid-tower
Check Price : Amazon
The latest offering from Cooler Master in form of the H500P is nothing short of sheer beauty which is not only a 10KG behemoth but has looks that can make anyone drool over it.
With support for a number of 200mm fans out of which two come by default in the front and one 140mm in the back the case is build like a tank and insures optimum air flow to keep all the components cool. The side panel is big and clean while you can also mount the graphics card vertically with the add-on bracket sold separately!
 9.  Monitor – ASUS VP28UQG 28″ 4K/UHD
Check Price : Amazon
For a build like this we need a monitor that can justify all that sparkling new hardware so we opt for the ASUS VP28UQG 28″ 4K which is not only a 4K monitor with an IPS display for maximum viewing angle and clarity but also features a 1ms response time making it the best combination possible for that price tag.
The monitor has a very thin bezel and comes with a 3 years warranty to keep you covered nicely.
Also Read : 

10 Best Gamepads Under Rs. 10,000

Best Mechanical Gaming Keyboards Under Rs. 10,000

 10 Best Ultrawide Gaming Monitors in India
 10.  Keyboard – HyperX Alloy Elite Cherry MX Red
Check Price : Amazon
When it comes to fast paced gaming the HyperX Alloy has been unmatched with its matriculate designing and solid build quality.
With 6 LED effects, 18 LED light bar and Cherry MX Red and Cherry MX Brown options to choose from for the switch types the Alloy Elite is a perfect keyboard for almost any type of gamer be it FPS, RPG or even combat.
 11.  Mouse – Logitech G502 Proteus Spectrum RGB 
Check Price : Amazon
The veteran and ever evolving G502 features the PMW3366 sensor which is one of the most advanced optical sensor for maximum tracking accuracy. Customize RGB lighting or sync it with other Logitech G products, set up custom profiles for your games, adjust sensitivity from 200 up to 12,000 DPI and position five 3.6 g weights for just the right balance and feel. No matter your gaming style, it's easy to tweak Proteus Spectrum to match it in many ways possible.
So there you have it a Gaming PC configuration for around Rs 200000 to handle all your gaming and multimedia work along with much more that you have or haven't even thought of yet.
I have not included the cost of extras such as speakers or headphones as that vary from person to person depending upon their usage, preference and even budget. Also for Windows keep aside around Rs 500 or so as you can get an OEM key easily for that much from many online stores and places to activate your free copy of Windows from Microsoft website.
From my side I've tried to keep everything in mind regarding this build but just in case I did forget something or you have a suggestion for the same then do drop a comment.
---
Also Read:
1) Best Gaming PC Build Assembly Under Rs. 1,00,000
2) Gaming PC Assembled Under Rs. 80,000
[ad_2]
Source link